Call for Proposals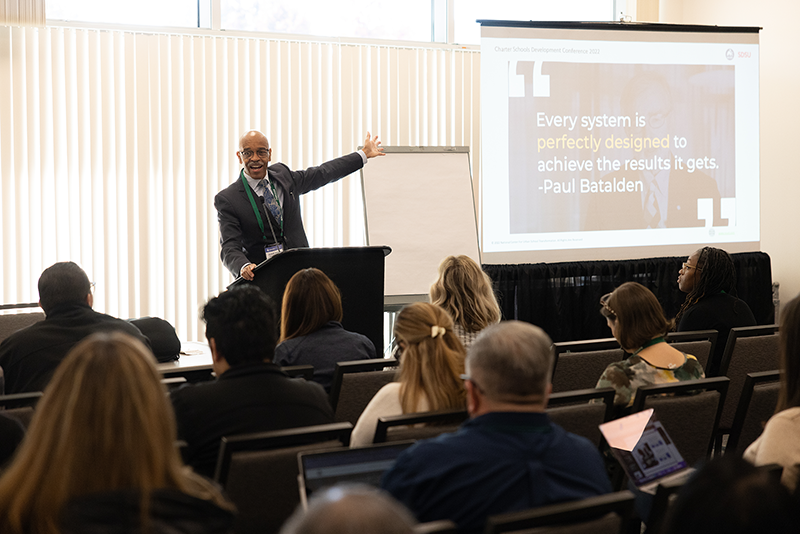 CSDC's annual conference offers an in-depth, timely program that provides the critical content, resources and technical assistance that charter leaders are seeking.
In 2023, the CSDC Conference is accepting proposals for the following conference programming formats:
Breakout Sessions: 75-minute presentations organized into strands that make up the bulk of the offered content and scheduled throughout the event
Learning Labs: 45-minute sessions hosted in our exhibit hall full of energy, hands-on engagement and opportunities for attendees to interact with their colleagues
Review the complete conference schedule.
Presenters
CSDC seeks strong, experienced leaders within the charter sector who have insightful, timely, and critical content to share. The most valuable proposals will:
Address content or topics listed in the CFP
Be presented by charter sector leaders
Review specific, proven best practices
Provide descriptions of specific challenges and how the school/charter organization/leader overcame them
Offer real-world applications to operationalize valuable content
Engage attendees with interactive components, helpful visuals, multiple presenters, and/or Q&A
Proposal Criteria, Review Process, and Resources
CSDC will only accept completed proposals submitted via the online portal. Proposals submitted any other way will not be accepted.
Proposals must be received by June 30.
Limit of three (3) proposal submissions per individual or five (5) per organization
According to CSDC policy, each accepted presenter will receive one (1) discounted conference registration—annual discounted rates may vary
Presenters confirm they have reviewed and agree to CSDC's Diversity Guidelines
Note: If submitting a proposal from a vendor or other support organization that works with charter schools, CSDC strongly encourages you to present with a charter school client representative. Charter leaders want to hear from and learn from other charter leaders and CSDC prioritizes these types of proposals.
Proposals Will Be Reviewed by CSDC's Programming Selection Committee Using the Following Criteria:
Unique content that is aligned with current events and trending issues for the charter sector
Responsiveness to the suggested topics in the CFP
Practical application
Data on proven outcomes
Specificity and quality of content
A creative, catchy, and precise session title
A clear objective—what will attendees learn as a result of your presentation
Presenter(s) experience and expertise
Interaction and opportunities for audience participation
Quality handouts/tools for attendees to takeaway
Level of commercial bias (if any)
Critical Presenter Deadlines*
June 30: Completed proposals must be submitted through the CFP
July 21: CSDC will confirm speakers by email. CSDC will also notify those who were not selected to be included in the 2023 conference program
August 4: Presenters must confirm intention to present, presenter titles, bios, and headshots and submit any edits to titles or descriptions
August 11: All 2023 CSDC Conference content live on conference website
Attend one presenter, one-hour training session at 1:00PM on October 25 or 10:00AM on October 27
November 1: Presentation files and resources uploaded to presenter portal
November 8-10: CSDC Conference in Anaheim, CA
*Presenters are eligible to register at the special, discounted full registration rate of $489. If you are not planning to attend the entire conference, and only your session, you must still register as a presenter (at no charge). Review the complete presenter FAQ for additional details. Additionally, all participants agree to abide by the CSDC Code of Conduct and speakers agree to the Diverse Speaker Guidelines.
Strands and Suggested Topics
Strand 1: Accountability and Renewal

Demonstrating Growth With Verified Data Assessments: Grappling With Pandemic Data and Other Tricky Issues
Demonstrating Strong Post Secondary Outcomes
Renewal and Accountability
Understanding Shifting LCAP Requirements / Tricky LCAP Issues: LCAP Excerpts and Case Studies
Renewal Case Studies: How We Rallied Our Data to Make a Compelling Case
Measuring Student Success
Other

Strand 2: Educational Approaches: Teaching and Learning

Successful CTEIG Programs
Developing and Launching Successful Community Schools
Leveraging Technology
STEM Programs
Developing Instructional Leadership
Project Based Learning
Effective Instructional Practices for Non-classroom Based Schools
Build a Thriving TK program
Addressing Learning Lag
Open Call: Share Your Instructional Super Power!
Other

Strand 3: Facilities

Effectively Navigating Prop 39
Bond Financing for Charter School Facilities
SB 740 Facilities Strategies
Facilities Fundamentals
Other

Strand 4: Governance

Essential Charter School Policies
Effective Board Management Practices
Strategic Planning for Charter Schools
Forming a PAC
Successfully Recruiting Charter School Board Members--Who to Look For and Where to Find Them
Positive Parent Communication
Managing/Recruiting Volunteers
Building Successful Relationship With Your Authorizer
Creating Local Networking Opportunities With Other Charter Schools
Other

Strand 5: Human Resources

Effectively Recruiting and Retaining High Quality Staff
Navigating Employee Leaves
Developing Competitive Salary and Benefits Packages
Talent Acquisition Strategy--How Do You Run an Effective Leadership Search?
Navigating Teacher Credentialing
At the Table: The Nitty Gritty of Negotiating Collective Bargaining Agreements
Collective Bargaining 101
Labor Relations Fundamentals
HR Claim Trends in Charter Schools
Effective Performance Management
Risk Management: Proactive HR
Employee classifications and contracts
Other

Strand 6: Leadership and Equity

Redefining a Culture of Wellness in Our School Staff
Building Effective Charter Leaders and Leadership Teams: Recruitment, Development and Retention Strategies
Leading Through Change Effectively
Developing Leadership Succession Plans
The Critical Work of Creating and Leading Diverse, Inclusive, Equitable, and Anti-Racist Organizations
Restorative Practices and Positive School Climate
Addressing Teacher and Administrator Burnout
Translating Mission, Vision and Values Into Practice
Strategic Planning and Implementation
Developing and Maintaining Strategic Partnerships
Strategic Planning for Charter Schools
Increasing Racial Diversity, Equity, Inclusion and Cultural Competence Among Charter School and District Administrators
Other

Strand 7: Legal

Independent Study Compliance
Wage and Hour Compliance: Employee Classifications and Non-exempt Requirements
Special Education Compliance
Legal and Policy Update
Cyber Security--More Critical Than Ever
Material Revisions, MOUs and Authorizer Policies: Challenges for Growth
Unions and Charter Schools
Other

Strand 8: Policy and Advocacy

Preparing for Renewal
Advocacy - Student Ambassadors
Parent Power
Running for Local School Board
Building Authorizer Support: Successful Outreach and School Visits
State Legislative and Regulatory Update
Other

Strand 9: School Operations

Universal Pre-K Fundamentals
Building and Managing a Sustainable Food Program
Expanded Learning Opportunities Program (ELOP) Implementation
Universal Meal Program: Best Practices
Creative, Impactful Marketing Strategies to Ensure Enrollment
Liability Trends and How to Avoid Them
School Safety
Preventing Student Sexual Assault
An Ounce of Prevention: Risk Management
Other

Strand 10: Strategic Fiscal Management

Universal TK Implementation
Building a Sustainable Universal Meal Program (UMP)
Categorical Funding--Making It Work for Your School
Strategies to Streamline Operations and Endure Fiscal Uncertainty
Innovative Charter School Financing and Funding Alternatives to Expand Revenue Sources
Federal Funding Management
Special Ed With Out Breaking the Bank
Audit Update
Other

Strand 11: Student Success

Meet the Rise in Student Mental Health Needs
Promoting Growth in Literacy
Promoting Growth in Mathematics
Supporting the Success of English Learners
Supporting the Success of Students With Disabilities
Supporting Students Through Crisis
Social Emotional Learning--Student Wellness
Social Justice and Anti-racism Curriculum
Supporting the Success of Students With Disabilities
Promoting Strong Post Secondary Outcomes
Supporting ELL Students
Supporting Students with Special Needs
Other
Submit a Proposal to Present by June 30, 2023!